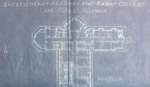 Description
This collection contains blueprints of the Sacred Heart Academy and Barat College ("Old Main") building, the Barat Gymnasium and Theatre building, and the Barat College Dormitory.
Finding Aids are tools used to aid research by describing the materials in a collection. Special Collections Finding Aids include historical and/or biographical information along with a description of the collection and a folder listing of the content.
To view this collection please email University Archives and Special Collections staff at spcoll@sandiego.edu.
Collection Dates
circa 1940-1956
Collection Size
1 oversize folder
Keywords
architectural drawings (visual works)
Copyright Note
In copyright--educational use permitted
Finding Aid Publication Date
12-2019
Digital USD Citation
Hill, Rosalie Clifton, "Guide to the Barat College Blueprint collection" (2019). Special Collections. 14.
https://digital.sandiego.edu/findingaidssc/14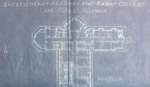 COinS