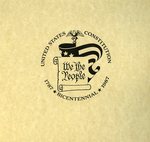 Description
The Commission on the Bicentennial of the Constitution (the Commission), consisting of 23 members appointed by President Ronald Reagan, was charged with promoting and coordinating activities to commemorate the 200 year anniversary of the Constitution. This collection documents the work of the Commission, as well as activities planned by state and local organizations for the Bicentennial. These records consist of the meeting materials, planning documents, and publications generated by the Commission, as well as materials highlighting events that took place throughout the United States.
Finding Aids are tools used to aid research by describing the materials in a collection. Special Collections Finding Aids include historical and/or biographical information along with a description of the collection and a folder listing of the content.
To view this collection please email University Archives and Special Collections staff at spcoll@sandiego.edu.
Collection Dates
1984-1988
Collection Size
3 boxes (3 linear feet)
Keywords
United States Constitution Bicentennial, 1987-1991, United States -- Constitution, events, commemorations
Disciplines
Education | History
Copyright Note
Some items in copyright--educational use permitted.
Finding Aid Publication Date
2017
Digital USD Citation
Commission on the Bicentennial of the Constitution, "Guide to the Commission on the Bicentennial of the Constitution records" (2017). Special Collections. 2.
https://digital.sandiego.edu/findingaidssc/2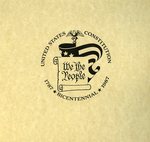 Included in
COinS