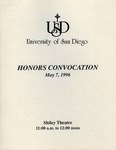 Description
Records dating 1961 to 1996 include Honors Convocation invitations and programs as well as planning materials for the Convocation, correspondence regarding award recipients, and copies of letters sent recipients. Also included are some materials regarding the Kappa Gamma Pi St. Catherine Medal award. After 1996, records solely include the Convocation program. Years 2004 and 2010 are currently missing from these records.
Finding Aids are tools used to aid research by describing the materials in a collection. University Records Finding Aids include historical and/or biographical information along with a description of the collection and a folder listing of the content.
To view this collection please email University Archives and Special Collections staff at spcoll@sandiego.edu.
Collection Dates
1961-2011
Collection Size
2 boxes (1.5 linear feet)
Keywords
awards, convocations, San Diego College for Women, University of San Diego. College for Men
Disciplines
Higher Education
Copyright Note
Copyright held by University of San Diego.
Finding Aid Publication Date
2017
Digital USD Citation
University of San Diego, "Guide to the Honors Convocation records" (2017). University Records. 30.
https://digital.sandiego.edu/findingaidsur/30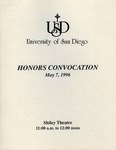 Included in
COinS