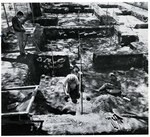 Description
The Mission San Diego de Alcalá Excavation records document the nearly twenty years of excavation work conducted during a University of San Diego course led by Professors Raymond Brandes and James Moriarty. Among the records are course materials, newspaper articles, photographs and negatives, research materials, maps, and audio recordings. Course materials include planning materials for the course, informational materials for students, and documentation of excavation work. This includes notes about work conducted during class sessions, inventories of found artifacts, and drawings of the excavation areas. Aerial photographs taken of the Mission San Diego de Alcalá site, and topographical maps created in preparation for excavations are included. Additionally, photographs of found artifacts and of the excavation site are included. While excavation occurred, gravesites of soldiers and priests were found and identified. Photographs and drawings of these findings are included in this collection. This collection also includes publicity about the course and clippings of newspaper articles written about the course. Record of excavations conducted in Old Town, particularly photographs, are also included.
These records include the extensive research conducted in preparation for the course. This includes research about Mission San Diego de Alcalá, about California Missions, and about Father Junípero Serra. Bibliographies of collected materials are included, along with maps and primary source materials. Additionally, audio recordings of James Moriarty giving tours of the excavation site are included.
In addition to materials directly related to coursework at Mission San Diego de Alcalá, materials pertaining to the proposed multipurpose building are included. Among these materials are correspondence regarding the proposed building, inquiries about the work conducted at the site, and the 1979 Environmental Impact Report created for the building.
Finding Aids are tools used to aid research by describing the materials in a collection. University Records Finding Aids include historical and/or biographical information along with a description of the collection and a folder listing of the content.
To view this collection please email University Archives and Special Collections staff at spcoll@sandiego.edu.
Collection Dates
1966-1987 (bulk) ; 1769-1989 (inclusive)
Collection Size
24 total boxes 6 oversize, 2 map-case drawers (30 linear ft.)
Keywords
San Diego Mission, Archaeology, Diocese of San Diego, courses
Disciplines
History of Art, Architecture, and Archaeology | Missions and World Christianity
Language
English, Spanish
Copyright Note
Copyright held by University of San Diego.
Finding Aid Publication Date
2019
Digital USD Citation
Brandes, Raymond, "Guide to the Mission San Diego de Alcalá Excavation records" (2019). University Records. 42.
https://digital.sandiego.edu/findingaidsur/42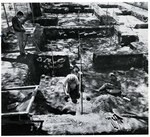 COinS