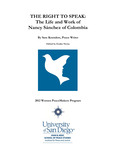 Abstract or Description
In the following pages, you will find narrative stories about a Woman PeaceMaker, along with additional information to provide a deep understanding of a contemporary conflict and one person's journey within it. These complementary components include a brief biography of the peacemaker, a historical summary of the conflict, a timeline integrating political developments in the country with personal history of the peacemaker, a question-and-answer transcript of select interviews, and a table of best practices in peacebuilding as demonstrated and reflected on by the peacemaker during her time at the Joan B. Kroc Institute for Peace and Justice.
A journalist by training, Nancy Sánchez has been documenting human rights abuses and the survival strategies of everyday women and men for over two decades in the more than 40-year- long conflict in Colombia.
Her work has taken her to remote and dangerous regions of the country: first to Magdalena Medio in the north and later Putumayo in the south. In the early 1990s, it was in one organization that Sánchez found her vocation. She states, "Everything I am and everything I have done in human rights I owe to what I learned in CREDHOS" — the Regional Committee for the Defense of Human Rights.
In the countryside of Magdalena Medio, she and her colleagues witnessed the scorched earth campaign being carried out by the military, while in the main city of Barrancabermeja, paramilitaries were committing massacres against civilians. Among other documentation, Sánchez and her five colleagues in the committee recorded unidentified bodies, many of whom had been tortured, in the morgue. The archive became the only way people could find their disappeared loved ones. Their courage to speak out came at a tragic price: Three of Sánchez's five fellow committee members were assassinated.
With the threat of death so near, Sánchez moved first to the capital of Bogotá and then to the Putumayo region, an epicenter of political violence and the illicit drug trade. She and a Catholic priest, Father Alcides Jiménez, worked closely with local leaders to highlight the effects of the war on the communities, until, again, Sánchez lost a colleague to the war. Father Alcides was killed by the rebel group the FARC, in front of his parishioners during Mass. But she continued her human rights work as the U.S.-funded Plan Colombia was implemented in the region, when indiscriminate aerial fumigations of coca crops caused massive public health problems and devastation as people lost their livelihoods. Her vigilant monitoring of human rights abuses resulted in death threats and she was forced to flee the country.
Upon her return in 2003, she began work with Asociación MINGA, a human rights organization, again in Putumayo — but this time primarily with women. She and her colleagues traveled "on horseback, on motorcycles, in canoes and in jeeps, on unpaved roads, over mountains and through jungles" to meet with women in remote areas to hear their stories of the conflict and offer workshops on human rights.
Sánchez's work has been recognized internationally with several human rights awards, and for U.S. citizens her reports and investigations offer a window to a poorly understood conflict where so much U.S. funding has been spent.
"My 20 years of experience as a human rights defender in various regions has given me the experience to assert that there is a great potential for women to transform their reality. ... The struggle for life is in the hands of women."
Keywords
peacebuilding, Women PeaceMakers, Colombia
Disciplines
Peace and Conflict Studies
Digital USD Citation
Koenders, Sara, "THE RIGHT TO SPEAK: The Life and Work of Nancy Sánchez of Colombia" (2012). Kroc IPJ Research and Resources. 20.
https://digital.sandiego.edu/ipj-research/20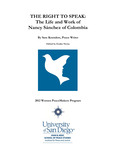 Included in
COinS