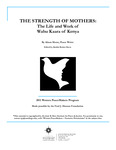 Abstract or Description
In the following pages, you will find narrative stories about a Woman PeaceMaker, along with additional information to provide a deep understanding of a contemporary conflict and one person's journey within it. These complementary components include a brief biography of the peacemaker, a historical summary of the conflict, a timeline integrating political developments in the country with personal history of the peacemaker, a question-and-answer transcript of select interviews, and a table of best practices in peacebuilding as demonstrated and reflected on by the peacemaker during her time at the Joan B. Kroc Institute for Peace & Justice.
An ardent advocate and long-standing peace and political activist, Wahu Kaara has lived through many chapters of Kenya's history. She has also helped write some of those chapters, making significant contributions to the progress of human rights, women's rights and democratization in Kenya.
In a country of immense ethnic diversity, Wahu is an adept cross-cultural Kenyan. As part of her desire to keep Kenya unified she has learned to greet people in all of its 42 languages.
As a student at Kenyatta University during the wave of political activism in the 1970s, Wahu's professors detected her readiness to think about and act on Kenya's most critical issues. The influence of her professors led her to become an educator. As a teacher and then headmistress of a girls' school, she tried to create unity and understanding between the diverse ethnic groups represented among the students. The vision she had then of empowering girls to be leaders in families, their communities and eventually the nation continues today.
Her pro-democracy activism turned toward the release of political prisoners in the early '90s, when Wahu and a group of mothers, wives and daughters approached Kenya's attorney general to demand the release of 52 prisoners arrested during the democracy struggles of the 1980s. The women would wait, on hunger strike, in the public park at one of Nairobi's busiest intersections – "Freedom Corner," as it came to be known – until he answered them. Though police brutality forced them to relocate to a nearby church, they continued their 2-year-long protest, and the government began releasing the prisoners one by one.
In 1999 Wahu helped establish Kenya Debt Relief Network (KENDREN), where she is now coordinating director, to coordinate Kenya's activities for the global Jubilee 2000 debt cancellation campaign. Now a well-respected research and policy analysis group, KENDREN frequently advises government ministries on matters of public finance, foreign aid and debt. This led to Wahu's appointment, from 2004 to 2006, as the coordinator of the U.N. Millennium Development Goals campaign at the All Africa Council of Churches.
Wahu's wisdom and expertise spans to other international organizations such as Action Aid and Oxfam, the coordinating committee of the World Social Forum, the African Social Forum Council and the Coalition for Peace in Africa, a network for peace and security in Africa.
She has been recognized for her contributions to Kenya's peace and development as one of the 1,000 women nominated for the Nobel Peace Prize in 2005 and as the 2009 Project Concern Global Humanitarian. Over the decades, she has seen Kenya's cycles of violence and peace, and as elections draw near again in 2012, Wahu hopes to mobilize organizations to prevent the recurrence of the 2007 election violence.
Keywords
peacebuilding, Women PeaceMakers, Kenya
Disciplines
Peace and Conflict Studies
Digital USD Citation
Morse, Alison, "THE STRENGTH OF MOTHERS: The Life and Work of Wahu Kaara of Kenya" (2011). Kroc IPJ Research and Resources. 25.
https://digital.sandiego.edu/ipj-research/25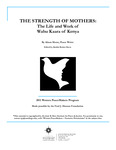 Included in
COinS