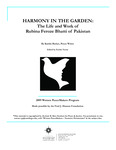 Abstract or Description
In the following pages, you will find narrative stories about a Woman PeaceMaker, along with additional information to provide a deep understanding of a contemporary conflict and one person's journey within it. These complementary components include a brief biography of the peacemaker, a historical summary of the conflict, a timeline integrating political developments in the country with personal history of the peacemaker, a question-and-answer transcript of select interviews, and a table of best practices in peacebuilding as demonstrated and reflected on by the peacemaker during her time at the Joan B. Kroc Institute for Peace & Justice.
Rubina Feroze Bhatti, born into a Christian family in the majority Muslim country of Pakistan, protects the rights of women who are targets of honor killings, acid attacks and other forms of violence. She is a founding member and general secretary of Taangh Wasaib Organization (TWO), a rights-based development group working for communal harmony and equality through its many programs addressing issues of violence against women, religious intolerance and sectarianism and discriminatory laws and policies against women and minorities. Bhatti trains women's groups to report on violence against women, supports victims with counseling and legal aid and works with media to bring attention to these issues.
Bhatti's peacemaking story began when she wrote an article condemning the imprisonment and torture of a Christian Pakistani man unjustly accused of blasphemy. Her words inspired human rights activists all over the country to raise their voices against the sentence, and Bhatti joined them in creating a campaign that ultimately saved the man's life. She has since devoted her energy to human rights activism in various forms.
With TWO, Bhatti works to abolish separate electorates which prevent non-Muslims from voting. In 2000 and 2001, the organization launched a massive campaign for religious minorities to boycott local elections. The campaign was successful and the government restored the joint electorate system. Bhatti also has established educational and health care facilities for children working in Pakistan's carpet- weaving industry, written scripts for theater productions on human rights and peace issues that were performed throughout the Punjab and North West Frontier Provinces, and been selected as one of the 1,000 women nominated for the Nobel Peace Prize in 2005. As a woman in the religious minority who lives in the rural and underdeveloped city of Sargodha, Bhatti and her work challenge the traditions and rituals shaped by a patriarchal society.
Keywords
peacebuilding, Women PeaceMakers, Pakistan
Disciplines
Peace and Conflict Studies
Digital USD Citation
Barker, Kaitlin, "HARMONY IN THE GARDEN: The Life and Work of Rubina Feroze Bhatti of Pakistan" (2009). Kroc IPJ Research and Resources. 31.
https://digital.sandiego.edu/ipj-research/31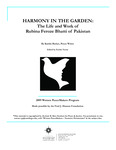 Included in
COinS