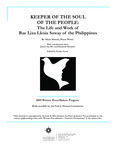 Abstract or Description
In the following pages, you will find narrative stories about a Woman PeaceMaker, along with additional information to provide a deep understanding of a contemporary conflict and one person's journey within it. These complementary components include a brief biography of the peacemaker, a historical summary of the conflict, a timeline integrating political developments in the country with personal history of the peacemaker, a question-and-answer transcript of select interviews, and a table of best practices in peacebuilding as demonstrated and reflected on by the peacemaker during her time at the Joan B. Kroc Institute for Peace & Justice.
Bae Liza Llesis Saway is an indigenous peacemaker in Mindanao in the Philippines, where Moros (Muslims), Christian settlers and indigenous peoples co-exist amidst several armed groups fighting the government army. She is known as Bae Nanapnay, a name given to the woman leader of the Talaandig indigenous community; her work is based on "the understanding of the harmonious relationships of plants, animals, human beings and the spirits."
A founder of Talaandig Mothers for Peace and the wife of a tribal chief, Saway has been leading the quest for the rights of the tribe to self-determination and self-governance in their ancestral domain, where their families have lived for centuries. Through her leadership, the Talaandig women are empowered and have equal opportunities in the decision-making processes of their tribe. The group documents indigenous methods of conflict resolution that have proved effective in settling family and intra-tribal discord. Saway also led the establishment of the Talaandig School for Living Traditions in Bukidnon Province, which promotes indigenous arts, music and dance and where children are taught the values and traditions of the tribe, thus preserving the culture heritage of the Talaandig people.
Saway has also emerged as one of the key leaders in the interfaith and multiethnic community efforts to move forward the peace processes in Mindanao. She is a council member of the Mindanao Peoples Caucus, composed of grassroots leaders from the Moro, Christian and indigenous communities who are working together for the peaceful resolution of the armed conflicts. As such, she has conducted dialogues with the major actors in the peace process and is an active partner in peace and development campaigns at the grassroots level. Saway bases her peace advocacy campaigns in the Talaandig doctrine of Kinship, as she represents her tribal community's call for a genuine peace in Mindanao.
Keywords
Peacebuilding, Women PeaceMakers, Philippines, indigenous
Disciplines
Peace and Conflict Studies
Digital USD Citation
Simoni, Alicia, "KEEPER OF THE SOUL OF THE PEOPLE: The Life and Work of Bae Liza Llesis Saway of the Philippines" (2009). Kroc IPJ Research and Resources. 33.
https://digital.sandiego.edu/ipj-research/33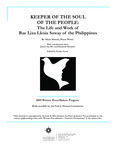 Included in
COinS