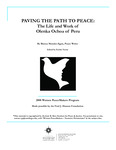 Abstract or Description
In the following pages, you will find narrative stories about a Woman PeaceMaker, along with additional information to provide a deep understanding of a contemporary conflict and one person's journey within it. These complementary components include a brief biography of the peacemaker, a historical summary of the conflict, a timeline integrating political developments in the country with personal history of the peacemaker, a question-and-answer transcript of select interviews, and a table of best practices in peacebuilding as demonstrated and reflected on by the peacemaker during her time at the Joan B. Kroc Institute for Peace & Justice.
An activist for human rights and women's rights during the brutal civil war in the 1980s and throughout the authoritarian presidency of Alberto Fujimori in the 1990s, Olenka Ochoa continues to fight violence and discrimination against women in Peru. As a university student when the Shining Path rebels began their insurgency, Ochoa organized activities to promote and defend human rights in local shantytowns and, with political groups and nongovernmental organizations, sheltered fellow women leaders resisting both the insurgents and the armed forces. In Villa El Salvador, a village to the south of Lima, she worked on the promotion of women's rights and organized political activities with local leaders such as Maria Elena Moyano, who was assassinated by the Shining Path for her community organizing.
In 1992, Ochoa joined the nongovernmental Research and Training Institute for Family and Women, which works primarily in the district of San Juan de Lurigancho, a destination for domestic migrants from Andean villages and an area hard-hit by the war. She worked with grassroots organizations and local women leaders in founding the first shelter for battered women in the district and later designed the innovative project "Peace Keepers," which involved at-risk youth in combating violence and discrimination and won a national contest sponsored by the World Bank in 2001.
On the governmental level, Ochoa has helped formulate new approaches to combating violence against women. In 1996, she founded the municipal program "Jacaranda" in Miraflores, which won the first U.N. Latin American Contest for Women's Rights in 1998. From 1999 to 2002 she served as an elected member of the Metropolitan Lima Municipal Council, developing alternative security strategies to protect women and founding the first commission of women in the municipality. Ochoa contributed to the design of a law for equal opportunities for women and men, which was signed into national law in March 2007. She is also a board member of the Federation of Municipal Women of Latin America and the Caribbean and of the Huairou Commission, a global network of community development organizations.
Keywords
peacebuilding, Women PeaceMakers, Peru
Disciplines
Peace and Conflict Studies
Digital USD Citation
Morales-Egan, Bianca, "PAVING THE PATH TO PEACE: The Life and Work of Olenka Ochoa of Peru" (2008). Kroc IPJ Research and Resources. 34.
https://digital.sandiego.edu/ipj-research/34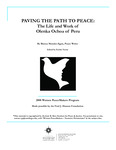 Included in
COinS