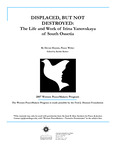 Abstract or Description
Women PeaceMakers are paired with a Peace Writer to document in written form their story of living in conflict and building peace in their communities and nations. While in residence at the institute, Women PeaceMakers give presentations on their work and the situation in their home countries to the university and San Diego communities.
Irina Yanovskaya, of South Ossetia in the Georgia-South Ossetia conflict zone, is a journalist, lawyer, chair of the NGO Journalists for Human Rights, children's advocate focused on post-conflict healing and peace education for children, as well as the mother of four, grandmother of one and a singer in her church choir. Devoted to resolving the conflict between Ossetians and Georgians that began with the disintegration of the Soviet Union, she is an outspoken critic of media that abuses and distorts public opinion.
Yanovskaya was recognized in 2005 among the 1,000 women nominated for the Nobel Peace Prize for her work to help war-traumatized children and women to overcome the horrors they witnessed, and for her efforts to reopen doors in mixed communities of Georgian and Ossetian people torn apart by hate and suspicion. She has given seminars and facilitated discussions among various groups within Ossetian and Georgian civil society, created summer camps for Georgian and Ossetian children and works with War Child International in Holland. A primary emphasis in all of Yanovskaya's work and extensive writing has been to find ways to open minds to peace and respect, especially those of children and young people who have only lived in an environment of conflict and revenge.
Keywords
peacebuilding, Women PeaceMakers, South Ossetia
Disciplines
Peace and Conflict Studies
Digital USD Citation
Haynie, Devon, "DISPLACED, BUT NOT DESTROYED: The Life and Work of Irina Yanovskaya of South Ossetia" (2007). Kroc IPJ Research and Resources. 38.
https://digital.sandiego.edu/ipj-research/38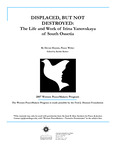 Included in
COinS