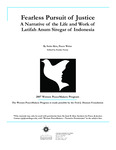 Abstract or Description
Women PeaceMakers are paired with a Peace Writer to document in written form their story of living in conflict and building peace in their communities and nations. The peacemakers' stories are also documented on film by the IPJ's partner organization Sun & Moon Vision Productions. While in residence at the institute, Women PeaceMakers give presentations on their work and the situation in their home countries to the university and San Diego communities.
Latifah Anum Siregar is a human rights lawyer, the chairperson of the Alliance for Democracy in Papua (ALDP) and an expert at the Commission for Law and Human Rights of the parliament in Papua Province, Indonesia. Although her family is from a different island, speaks a different language and practices a different religion, Siregar is a trusted, effective advocate for peace, working within the complex tribal and migrant conflicts of Papua communities. Respected for her and ALDP's call to identify traditional laws, norms and values that could help settle land disputes, she has led the way to articulating these traditions in written law, which the Papuan indigenous people can now use to negotiate with the government and migrants in the search for peaceful solutions to land conflicts. During Siregar's student days in the early 1990s, she was the first woman chairperson of the Muslim Students Association; later in the decade she served as a member of the regional parliament in Papua Province. From 2003 to 2007 she was on the board of directors of Papua Women Solidarity; and from 2007 to 2011 she is serving as general secretary of the Papua Muslim Assembly.
Keywords
peacebuilding, Women PeaceMakers, Indonesia
Disciplines
Peace and Conflict Studies
Digital USD Citation
Kim, Stelet, "FEARLESS PURSUIT OF JUSTICE: A Narrative of the Life and Work of Latifah Anum Siregar of Indonesia" (2007). Kroc IPJ Research and Resources. 39.
https://digital.sandiego.edu/ipj-research/39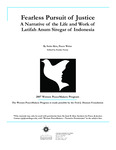 Included in
COinS