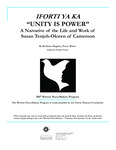 Abstract or Description
Women PeaceMakers are paired with a Peace Writer to document in written form their story of living in conflict and building peace in their communities and nations. While in residence at the institute, Women PeaceMakers give presentations on their work and the situation in their home countries to the university and San Diego communities.
Susan Tenjoh-Okwen is a teacher, community peace mediator, facilitator promoting social and economic empowerment and respected gender activist who has peacebuilding experience in two provinces of Cameroon. As technical advisor for women's affairs in the Ashong Cultural and Development Association of Bamenda, a founding member of the Moghamo Women's Cultural and Development Association of Cameroon and president of the Moghamo Women's Association, Tenjoh-Okwen has been working to address causes of long-standing, inter- and intra-tribal conflicts that seldom make international news, but that result in division, displacement and trauma for people in several regions. In uniting and educating women from different villages, she was able to overcome the hostilities of men against men at the peak of a crisis when families were being torn apart.
A mother of five, Tenjoh-Okwen is also publicity secretary for the Cameroon Association of University Women (affiliated with the International Federation of University Women) and serves on the board of the Fomunyoh Foundation, a charitable organization promoting humanitarian activities and peace. Tenjoh-Okwen teaches at the undergraduate and graduate levels, has many published articles on her gender work and has appeared on Cameroon television as a facilitator on peace and gender issues.
Keywords
peacebuilding, Women PeaceMakers, Cameroon
Disciplines
Peace and Conflict Studies
Digital USD Citation
Hughart, Kathleen, "IFORTI YA KA "UNITY IS POWER": A Narrative of the Life and Work of Susan Tenjoh-Okwen of Cameroon" (2007). Kroc IPJ Research and Resources. 41.
https://digital.sandiego.edu/ipj-research/41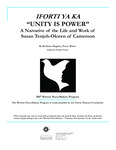 Included in
COinS