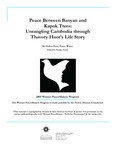 Abstract or Description
Women on the frontline of efforts to end violence and secure a just peace seldom record their experiences, activities and insights – as generally there is no time, or, perhaps, no formal education that would help them record their stories. The Women PeaceMakers Program is a selective program for leaders who want to document, share and build upon their unique peacemaking stories. Selected peacemakers join the IPJ for an eight-week residency. Women PeaceMakers are paired with a Peace Writer to document in written form their story of living in conflict and building peace in their communities and nations. While in residence at the institute, Women PeaceMakers give presentations on their work and the situation in their home countries to the university and San Diego communities.
A survivor of three decades of civil war, genocide and domestic violence, Thavory Huot, from Phnom Penh, Cambodia, is currently the executive director of the Khmer Ahimsa Organization (KAH), which works to empower communities with conflict resolution skills through informal village structures. Prior to this, she was affiliated with Brahmavihara, the Cambodia AIDS Project, and has been program manager of the Peace Education and Awareness Unit of the Working Group for Weapons Reduction. The group works to reduce weapons; promote peace and non- violent problem solving; and strengthen the capacity of high school teachers, pedagogical trainers, teachers-in-training and Cambodian civil society to build a peaceful and safe country.
In the 1970s, Huot witnessed the death of most of her family under the Khmer Rouge. During those years, she was forced into manual labor, building dams and irrigation channels, and transplanting, plowing and harvesting rice. After the Vietnamese invasion in 1979, Huot survived by teaching in exchange for food for almost a decade. In the 1990s, she became the project coordinator of the Buddhist Association of Nuns and Lay Women, where she worked to empower women on national reconciliation and heal the wounds of many years of war and genocide.
Domestic violence, including assaults with a deadly weapon, is common following years of conflict, and Huot has worked in various projects against such violence since 1998. She is the mother of three adult children, two of her own and an adopted nephew, all of whom she says serve as inspiration for her tireless efforts to make peace in her scarred country. She states, "I would never want my children to suffer the way I did."
Keywords
peacebuilding, Women PeaceMakers, Cambodia
Disciplines
Peace and Conflict Studies
Digital USD Citation
Ezer, Ozlem, "Peace Between Banyan and Kapok Trees: Untangling Cambodia through Thavory Huot's Life Story" (2005). Kroc IPJ Research and Resources. 45.
https://digital.sandiego.edu/ipj-research/45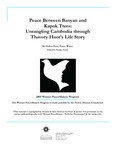 Included in
COinS