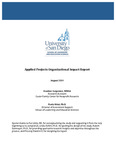 Abstract or Description
Student learning outcomes and student satisfaction of nonprofit management graduate degree programs have received much attention recently from researchers. However, little research examines the community impact of such programs.
This paper reports findings from a community impact study of the Masters of Arts in Nonprofit Leadership and Management at the University of San Diego. An extensive qualitative study was conducted to determine whether student-led applied projects conducted for nonprofit organizations had an impact on those organizations, and if so, to assess the type and duration of that impact. A key finding was that all organizations that were interviewed for the study used the student-created project in some capacity. In addition, it was found that although some organizations may not have fully used the project, they benefitted from the project recommendations. Students employed by their own organizations completed the most successful projects. This was because students chose a project precisely when it was needed by the organization.
Report findings contain recommendations for future research and for future students engaging in projects. The future student recommendations range from improving communication between students and organizations to improving the timing and duration of student projects. Nonprofit graduate program directors can utilize these results and recommendations when creating and/or managing the experiential learning components within their programs.
Keywords
nonprofit, non-profit, nonprofit institute, caster, family, center, philanthropy, philanthropic, university of San Diego, San Diego, Applied Project, Evaluation, nonprofit management and leadership Program, Leadership, Leadership Education
Disciplines
Leadership Studies | Nonprofit Administration and Management
Digital USD Citation
Carpenter, Heather and Krist, Paula, "2009 Applied Projects Organizational Impact Report" (2009). USD Evaluation of Applied Learning Model in Nonprofit Leadership and Management Master's Program. 4.
https://digital.sandiego.edu/npi-appliedprojects/4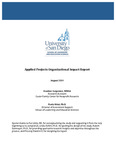 COinS