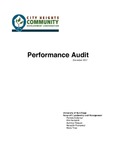 Abstract or Description
The City Heights Community Development Corporation (CHCDC) is a 30-year-old nonprofit organization that strives "to enhance the quality of life in City Heights by working with the community to create quality affordable housing, livable neighborhoods, foster economic self- sufficiency, and stimulate investment" (City Heights Community Development Corporation, 2009).
The CHCDC is an instrumental organization and an asset to the diverse community of City Heights. The leadership team is enhancing awareness, working through adaptive challenges, building relationships with potential funders and partners, and establishing a healthy organizational culture. Most importantly, the organization is taking the right steps to ensure it stays true to its mission by meeting the needs of the City Height's community. The consulting team performed a comprehensive audit to ensure the company was in compliance with best organizational practices.
Keywords
philanthropic, philanthropy, performance, audit, community, development, city, heights, nonprofit, not-for-profit, non-profit, capacity building
Disciplines
Nonprofit Administration and Management
Digital USD Citation
Gutierrez, Pamela; Herbstritt, Kim; Polacek, Summer; Praniewicz, Meredith; and Trias, Maria, "City Heights Community Development Corporation Performance Audit" (2011). Program Design and Evaluation. 2.
https://digital.sandiego.edu/npi-bpl-programdesign/2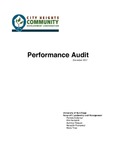 Included in
COinS