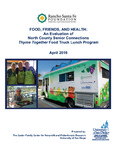 Abstract or Description
The North County Senior Connections Thyme Together Food Truck Lunch Program (subsequently referred to as NCSC) is a collaborative project initiated in November 2014 that provides affordable, nutritious lunches, recreational programming, and community information to seniors in the northern region of San Diego County (North County).
In May 2015, six months after NCSC launched, the Rancho Santa Fe Foundation commissioned the University of San Diego's Caster Family Center for Nonprofit and Philanthropic Research (Caster Center) to: 1) evaluate NCSC's progress towards meeting its objectives, and 2) provide feedback and recommendations for programmatic changes as necessary. This report presents the findings from the first 17 months of a three-year evaluation.
Keywords
nonprofit, non-profit, nonprofit institute, caster, family, center, philanthropy, philanthropic, university of San Diego, San Diego, seniors, Evaluation, Nutrition
Disciplines
Nonprofit Administration and Management
Rights
Copyright © 2016 All Rights Reserved Caster Family Center for Nonprofit and Philanthropic Research School of Leadership and Education Sciences University of San Diego www.sandiego.edu/npresearch
Digital USD Citation
Ahearne, Michelle; Davari, Azadeh; Tinkler, Tessa; and Schumann, Mary Jo, "2016 Food, Friends, and Health: An Evaluation of North County Senior Connections Thyme Together Food Truck Lunch Program" (2016). Seniors. 4.
https://digital.sandiego.edu/npi-seniors/4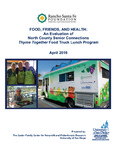 Included in
COinS