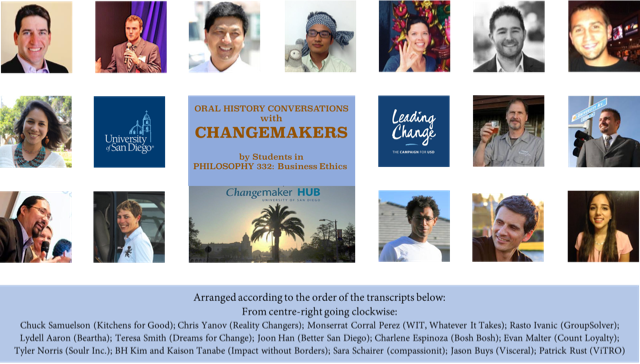 Through the support of the Office of the Provost and the Changemaker Hub, students in Philosophy 332 (Business Ethics) engaged local social entrepreneurs in face-to-face conversations about how their life story or lived experiences engendered the ideas, motivations, and commitment that drive their social venture.
These conversations provide insight into how social entrepreneurs are driven by values and aspirations other than the profit motive, and how they turn conditions involving uncertainty into profit-generating ideas or opportunities. Through these conversations, students also gained a deeper appreciation of the importance of diversity interactions—i.e., exchanges between and among people who are different—for driving positive change and fostering creativity within business organisations: cooperative endeavors that harness the differences in people's perspectives and lived experiences help curb group-think, emotional contagion, and herd behaviors.
Most importantly, these conversations provide insight into how entrepreneurs work with local communities and mobilize indigenous resources to address a range of social issues—climate change and sustainability, juvenile justice, homelessness, food security, educational disparities, among others.
Student Work from 2018
Oral History Conversation with Stepheni Norton, Aderola Adedigba, Alaina Castrence, Evan Montag, and Mitchell Williams
Oral History Conversation with Deb Martin, Jintian Chen, Guanchou Shen, Gianna Rusca, Alex Magoon, and Aalia Inamdar
Oral History Conversation with David Bruemmer, Brandon Chung, Roberto Rodriguez, Constance Olmert, and Alec Weber
Oral History Conversation with Stephen Foster, Randall Hanshaw, Janaye Perry, Jennie Morgan, and William Hays
Oral History Conversation with Cecilia Sibony, Brianna Huffman, Kelly Brugler, Valerie Roa-Baez, and Anil Nankani
Oral History Conversation with Amber Brandner, Bruno Kern, Andrew Carroll, Juan Rivera, and Danika Murphy
Oral History Conversation with Ben Alemu, Daniel Kurzweil, Amy Nguyen, Natalia Galan Bataller, and Devin Aubert
Oral History Conversation with Miguel Marshall, Nia mair, Anthony Beinar, Chris Colarossi, and Janet Herring
Oral History Conversation with Nick Sandoval, Kristina Overman, Parker Shultz, Courtney Coddington, and Roc Beas
Oral History Conversation with Ms. Torrie Dunlap, Nicholas Roberti, Megan Woody, Michael Busch, and Vam Djoukwet
Oral History Conversation with Ryan Sisson, Jeremy Shockley, Sydney Ceccato, and Ian Morris
Oral History Conversation with Mark Berger, Jack Turner
Student Work from 2017
Oral History Conversation With Chuck Samuelson (Kitchens for Good), Sulaiman Almatar, Michelle Truong, Jason Chander, and Megan Strickland
Oral History Conversation with Christopher Yanov (Reality Changers), Bronte E. Benesh, Matthew Fairorth, Mshary Arnous, and Jason Mendes
Oral History Conversation with Monserrat Perez Corral (Whatever It Takes), Brianna M. Boretto and Andrew Schlegel
Oral History Conversation with Rasto Ivanic (GroupSolver), Andreas Breitenberg-Scavuzzo, Courtney Abbassian, Devon Parikh, and Majid Bouresli
Oral History Conversation with Lydell Aaron (Beartha), Alexander Z. Bulkin, Kari Schattinger, Kate L. Gardner, Charbel Mouannes, and Danielle Silvaggio
Oral History Conversation Teresa Smith (Dreams for Change), Cole W. Davenport, Charlie Gunn, Marissa DiBlasio, and Melad Youssofi
Oral History Conversation with Joon Han (Better San Diego), Lacey Hartin, Gabriela Guevara, and Akira Bannai
Oral History Conversation with Charlene Espinoza (Bosh Bosh), Tatiana T. Henry, Blake Martin, Jessica Hernandez Bernal, and Chason S. Bridges
Oral History Conversation With Evan Malter, Tyler J. Hodges, Mary Ann Lee, Max Opperman, and Salvador Llamas
Oral History Conversation with Tyler Norris (SOULR), Morgan Lester, Keegan P. McMillan, Baisi Wu, and William Han
Oral History Conversation With BH Kim and Kaison Tanabe (Impact Without Borders), Grant M. McGahey Mr., Austen Molano, Dylan Valdivia, and Randy Kim
Oral History Conversation with Sara Schairer (Compassion It), Lauren Sykes, Kendall Higgins, and Caitlin Catherwood
Oral History Conversation with Jason Buys, Marguerite M. Wallace, Akira Bannai, Devon Parikh, and Jason Mendes
Oral History Conversation with Patrick Rust (VITRO), Draysen Wilson, Emily Evans, Madison Span, and Bryan Rodriguez