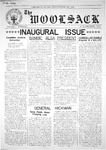 Description
Table of Contents:
Excessive Juvenile Detention by Richard L. Vaughn Judge of the Juvenile Court of San Diego County
Bambic ALSA President
Common Law Ramble by W.J. Miller Barrister-at-law
General Hickman : Some points about studying law
Editorial
Student Bar President's corner by Jon Gudmunds
Phi Delta Phi
Phi Alpha Delta
Congressman UTT : Limited Test Ban Treaty
Tobacco on Trial : Guilty? by Milan L. Brandon, M. D.
Congressman Van Deerlin : Congressional Conflict of Interest Problem
Trusts and the Estate Owner by Paul L. Crosby Life Underwriter N.Y. Life Insurance Co.
Meet the Faculty
Publication Date
9-10-1963
Keywords
University of San Diego School of Law Student Bar Association
Digital USD Citation
University of San Diego School of Law Student Bar Association, "Woolsack 1963 volume 1 number 1" (1963). Newspaper, The Woolsack (1963-1987). 1.
https://digital.sandiego.edu/woolsack/1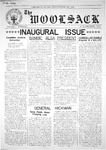 Included in
COinS