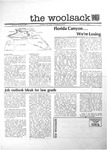 Description
Table of Contents:
Florida Canyon ... We're Losing by Dave Axtman
Job outlook bleak for law grads
Woolsack Racks 'Em Up
SBA '79 by Troy B. Smith
Moot Court Competition
Hanging On ...by Amy Wrobel
New Woolsack Editor Elected
CalPIRG Needs Volunteers
Second Thoughts for first year students – adults only Welcome? by Jeff Thoma
Prescription: Law Associates by Christine Goodman
The ugly duckling by Al Schack
Open Letter to U.S.D. by Sandy Jossen
The Story of Double Murder: Where Lawyers Provide Comic Relief by Diane Ridge
Carnage ...
Free Classifieds
Fall Sports Review by Ardie Boyer
Intramural schedule fall semester – 1979
Coed Sports in Action
Intramural Director Named
Publication Date
9-7-1979
Keywords
University of San Diego School of Law Student Bar Association
Digital USD Citation
University of San Diego School of Law Student Bar Association, "Woolsack 1979 volume 20 number 1" (1979). Newspaper, The Woolsack (1963-1987). 100.
https://digital.sandiego.edu/woolsack/100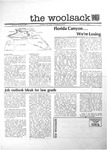 Included in
COinS