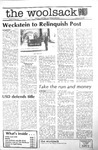 Description
Table of Contents:
Weckstein to Relinquish Post by Scott Kolod
USD defends title
Take the run and money by Jeff Singer
From the Editor
From the readers
LEXIS visits USD by Chip Post
Murphy's law attractive
Briefly…
Law journal born
USD grad convicted
Honor court
Movie announcement
California marijuana initiative
Career planning
Kodak loses court battle
Around Campus: Students differ in response to draft by Janice Bellucci
Book Review: 'The Brethren not readable by Michael Pundeff
Beware of bugs, rodent hairs, mold
Parable: 3 administrators do not. a full deck make by Mike Williams and Ed McPherson
Sexism remains in legal hiring by Maria R. Meyer
Old Globe presents 'Witness'
Poetry
Sports Comment: Olympic Boycott??
Publication Date
2-27-1980
Keywords
University of San Diego School of Law Student Bar Association
Digital USD Citation
University of San Diego School of Law Student Bar Association, "Woolsack 1980 volume 20 number 12" (1980). Newspaper, The Woolsack (1963-1987). 108.
https://digital.sandiego.edu/woolsack/108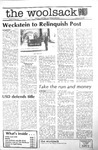 Included in
COinS