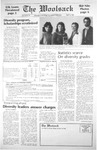 Description
Table of Contents:
Diversity program, Scholarships scrutinized by Maureen McNair
Statistics scarce On diversity grades by Beth Kowalke-Baier
Strong-arming alleged: Diversity leaders answer charges by Janice M. Bellucci
From the Editors: Diversity Program Probe And Results Explained
From the Editors: More Humanity Urged in Exam Rescheduling
From the Readers: Legal jobs, Help Available in D.C.
Traynor Comp. on Saturday
Briefly Speaking
Threat of Elimination of GSLs Keeps Law Students Worried by Frank Zotter, Jr.
Alumnus Profile: President Predicts Growth by Maureen McNair
Skit Nite 1982: A Chance to Laugh
'Quest for Fire' Depicts Life 800 Centuries Ago by Frank Zotter, Jr.
New SBA Leaders Address Campus Issues by J.L. Hall
Alumnus Profile: Denton emphasizes Value of clerking by Janice M. Bellucci
Publication Date
4-15-1982
Keywords
University of San Diego School of Law Student Bar Association
Digital USD Citation
University of San Diego School of Law Student Bar Association, "Woolsack 1982 volume 22 number 18" (1982). Newspaper, The Woolsack (1963-1987). 135.
https://digital.sandiego.edu/woolsack/135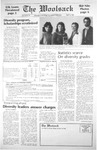 Included in
COinS