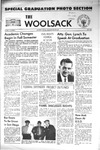 Description
Table of Contents:
Academic Changes Begin in Fall Semester
Civil Rights Council at U.S.D.
Attorney General Lynch to Speak at Graduation
Federal Defender Project Outlined
Bar Exam to Be Given in San Diego
Panel Discusses Rights
New Assistant Dean at U.S.D.
Editorial: For Extra Value Received
Law Review Staff Chosen
S.B.A. Report by Mike Thorsnes
Dean Appointed Arbitrator
Letter to Editor
Alumni in the News
Intermural Moot Court: 4th District Court of Appeals Hears U.S.D. Students by Richard Trost
Delegates to Model U.N.
L.L.B. Becomes Minority Degree
Lee Gets Summer Grant
S.B.A. Picnic Pics
'67 Graduating Law Students
Behind the Rostra: Lt. General Leo D. Hermle: From the Halls of Montezuma to the Classrooms of USD by Jim Giblin
PAD News Notes
Recent Appearance: Phi Delta Delta
Grades at a Glance by Gary Lane
Second Law Review Due in June
Summer Grant to Prof. Winters
Two Picked for Hawaii
Moot Court Competition Winners
Dean Sinclitico Named to Bar Committee
Meeting in Fall: Conference of California Law Schools Moves to U.S.D.
Keywords
University of San Diego School of Law Student Bar Association
Digital USD Citation
University of San Diego School of Law Student Bar Association, "Woolsack 1967 volume 4 number 5" (1967). Newspaper, The Woolsack (1963-1987). 14.
https://digital.sandiego.edu/woolsack/14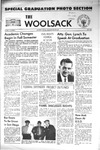 Included in
COinS