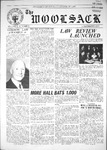 Description
Table of Contents:
Common Law Ramble by W.J. Miller Barrister-at-law
Freshman Background Wide by …
Law Review Lunched
Miner, L.A. prosecutor, will speak to bench, bar, students
Tobacco on Trial: Guilty? The Medical Battle by Milan L. Brandon, M. D.
Law and Hypnosis by Fred Tschopp
Tax Facts by Paul L. Crosby Life Underwriter N.Y. Life Insurance Co.
Editorial
Alumni News
Law Wives Club
On prosecution by Ronald Goldfarb B.A., LL.B., LL.M., Ph.D.
Meet the Faculty: Prof. Joseph A. Sinclitico Jr.
Fraternity News
SBA President's Corner
St. Thomas More
Lawyers Invited
Publication Date
12-6-1963
Keywords
University of San Diego School of Law Student Bar Association
Digital USD Citation
University of San Diego School of Law Student Bar Association, "Woolsack 1963 volume 1 number 2" (1963). Newspaper, The Woolsack (1963-1987). 2.
https://digital.sandiego.edu/woolsack/2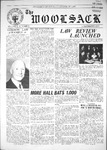 Included in
COinS