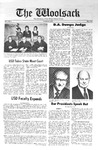 Description
Table of Contents:
D.A. Dumps Judge by Rex Gay
USD Takes State Moot Court
USD Faculty Expands by Craig A. Fox
Bar Presidents Speak Out by Dan Bamberg
From the Editor: Psychosurgery: Now Less Than Ever by Dick Stack
Rex Racks USD by Rex Gray
The SLA and Twisted Minds by Dan Bamberg
DeFunis: Three Views: Who Should Be Admitted to Law School by Pat Zaharopoulos [and] Leadership lacking by Prof Frank Engfelt [and] The DeFunis Decision: A Response to Prof. Engfeh by Associate Professor Michael J. Navin
Stephenson Appointed Governor by Hick Annis
Coming In To Los Angeles by Dick Stack
Streaking: Underneath It All by Denyse C. McGriff
Law Books Aren't People by Ed Danclski
BALSA Convention Successful by Mark Franklin
Moot Court
Woolsack Welcomes New Staff Member
Law Review
Outgoing Vice Pres. Report by Kathy Strickland
Fifth National Women's Conference by Nanci Clinch
From the Dean's Desk
Do Paris: You'll Be Glad You Did by Dick Stack
Big Gun Co's Election Special: Gifts for All Occasions by Tom Dietsch, SBA Secretary - with Dick Stack
Alumni Assoc. Holds Telethon
A Little Help For Our Friends
Local Boy Makes Good
Alumni Jobs
USD Summer Lawyers' Seminars in Paris
Need A Law Clerk?
Alumni Awards Dinner
Practical legal Education For Alums PLEA
Legislation Class In Sacramento by Kathy Striekland
Minority Admissions Surveyed by Pat Zaharopoulos and Dan Bamberg
A Look At Next Year by Michael C. Coil
Willy Wins
Federal Clerkships
De Minimis by Diane Ward
Panty Raid Craze Hits in San Diego; police Quell Riot, Jail 13 Students by Janet Blom
Keywords
University of San Diego School of Law Student Bar Association
Digital USD Citation
University of San Diego School of Law Student Bar Association, "Woolsack 1974 volume 12 number 2" (1974). Newspaper, The Woolsack (1963-1987). 56.
https://digital.sandiego.edu/woolsack/56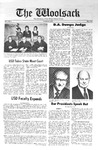 Included in
COinS