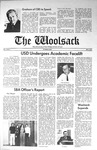 Description
Table of Contents:
Graham of CBS to Speak
USD Undergoes Academic Facelift
SBA Officer's Report
Woolsack Expends
From the Editor: Woolsack Budget Cut
Just Another Plastic Infundulum? By Earnie Alder
Paper and the Soapbox by Ed Danelski
Letters to the Editor
Abortion Controversy
Bandaids for Cancer – General Relief by Tom Dietsch
State Bill Number 1 …Repressive Legislation by Bill Blum
Hastings Controversy by Dean Weckstein
Buckley Debates Alioto by Brian Keighman
SBA Funds Guild Publication by Ed Danelski
San Diego Police Practices by Don Dunn, Attorney At Law
Tails of the Great Hunt by Larry Krakauer
Child Care project Notes by Eve Trook
Legal Work for the Summer: S.D. School Desegregation Case
Legislative Research
Women's Clinic Planned
Environment SD's Mountain Empire by Bob Butterfield
S.D.G.&E. Takes on Woolsack
Kapiloff Speaks to the ELS by Ernie Adler and Steve Laudig
Women In Prison: The Invisibles by Ruth Ann Wishik
Results of Pass-Fail Survey by Jim Gorman
An Apology for the Absence of Legal Genius by Tomas Key
A Victim's Viewpoint by Nanci Clinch
Attention Attorneys!
De Minimis by Diane Ward
Poetry Corner
Keywords
University of San Diego School of Law Student Bar Association
Digital USD Citation
University of San Diego School of Law Student Bar Association, "Woolsack 1975 volume 12 number 8" (1975). Newspaper, The Woolsack (1963-1987). 62.
https://digital.sandiego.edu/woolsack/62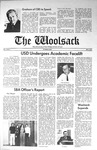 Included in
COinS