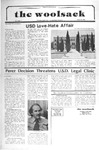 Description
Table of Contents:
USD Love – Hate Affair by Spencer Busby
Perez Decision Threatens U.S.D. Legal Clinic by Jeff Thoma
Editorial
From the SBA President
Moot Court Offers Practical Experience by Mark A. Hiller
"City of Roses" Guadalajara: Summer of '78 by Diane Dai Santo
Chrestomathy by Philip Matricardi
Women's Law Outlook by Liz Nesseler
Women's Legal Center by Pat Kelliher
Defending the poor: A toilet flashing system of justice by Spencer Busby
Attorneys too are blamed by Spencer Busby
… And clients are skeptical of free attorney services
Where to rent: Are You Feeling Like a Rolling Stone?
Beyond the classroom by Vicki Hirsch
Horrorscope
Arts: Rock Music, Film
Domestic violence conference tackles growing problem: Do you still beat your wife? By Jim Poole
Paris Institute Founder Pierre Azard Dies
Law Intramural Teams Now Forming by Mark J. Speck Esq. and D.B. (King) Rogalski Esq.
How to avoid being called on when you haven't read the case by C.A. Hobba
Louisiana Passes "Strictest" Abortion Law
Supreme Court extends FCC censorship powers
1000 law students register
Placement Office Gratuities
Dean Wekstein's back
Faculty News briefs
Publication Date
8-29-1978
Keywords
University of San Diego School of Law Student Bar Association
Digital USD Citation
University of San Diego School of Law Student Bar Association, "Woolsack 1978 volume 19 number 1" (1978). Newspaper, The Woolsack (1963-1987). 88.
https://digital.sandiego.edu/woolsack/88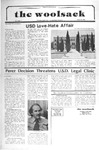 Included in
COinS