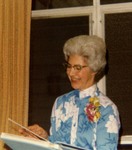 Description
This collection contains a photograph album and scrapbook that belonged to San Diego College for Women and University of San Diego Professor of Chemistry Sister Agnes Schmit, RSCJ.
Finding Aids are tools used to aid research by describing the materials in a collection. Special Collections Finding Aids include historical and/or biographical information along with a description of the collection and a folder listing of the content.
To view this collection please email University Archives and Special Collections staff at spcoll@sandiego.edu.
Collection Dates
1960-1995
Collection Size
1 oversize box, (1 linear foot)
Keywords
San Diego College for Women
Copyright Note
In copyright--educational use permitted
Finding Aid Publication Date
10-2019
Digital USD Citation
Schmit, Agnes, "Guide to the Sister Agnes Schmit collection" (2019). Special Collections. 10.
https://digital.sandiego.edu/findingaidssc/10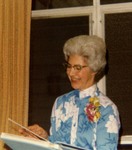 COinS