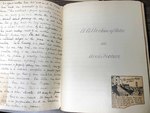 Description
This scrapbook is an architectural notebook compiled by Rev. Mother Celeste Marie Thompson, RSCJ. It includes Thompson's notes on architectural history, newspaper clippings, postcards, and magazine cutouts covering a variety of architectural styles.
Finding Aids are tools used to aid research by describing the materials in a collection. Special Collections Finding Aids include historical and/or biographical information along with a description of the collection and a folder listing of the content.
To view this collection please email University Archives and Special Collections staff at spcoll@sandiego.edu.
Collection Dates
before 1950
Keywords
architectural history
Disciplines
Architectural History and Criticism
Copyright Note
In copyright--educational use permitted
Finding Aid Publication Date
2-2020
Digital USD Citation
Thompson, Celeste, "Guide to the Mother Celeste Thompson scrapbook" (2020). Special Collections. 16.
https://digital.sandiego.edu/findingaidssc/16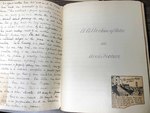 Included in
COinS