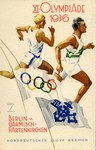 Description
This collection includes memorabilia from Julia and James Nahn's travels on the S.S. Bremen, and at the 1936 Olympic Games in Berlin. S.S. Bremen materials include menus marketing the Olympic Games, and a passenger list with ship information. Olympics materials include a ticket book for attendance in the Olympic Stadium on August 2nd through 4th. August 3rd, 1936 was the date Jessie Owens won the gold medal for the 100 meter dash with a time of 10.3 seconds. A propaganda book titled Germany The Olympic Year is included along with film clips of the 1936 Winter Olympic Games. In addition to records pertaining to the Olympic Games, this collection contains family photographs of the Hoevelmann family, and photographs and film clips of family trips throughout Europe and the United States.
Finding Aids are tools used to aid research by describing the materials in a collection. Special Collections Finding Aids include historical and/or biographical information along with a description of the collection and a folder listing of the content.
To view this collection please email University Archives and Special Collections staff at spcoll@sandiego.edu.
Collection Dates
circa 1890-1955
Collection Size
2 boxes plus 1 framed item, (2 linear feet)
Keywords
Olympics, Winter Olympics, Nazi propaganda
Copyright Note
In copyright--educational use permitted.
Finding Aid Publication Date
2018
Digital USD Citation
Moran, Patrice, "Guide to the Hoevelmann Family collection" (2018). Special Collections. 7.
https://digital.sandiego.edu/findingaidssc/7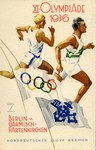 COinS