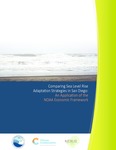 Abstract or Description
Coastal communities in San Diego County face ever-increasing risks from sea level rise, coastal storm events, flooding, and beach erosion. The potential hazards to this vital, vibrant 70-mile stretch of California coastline compel city planners and decision-makers to develop coastal resilience initiatives by conducting vulnerability assessments and considering potential adaptation strategies.
Nexus Planning & Research was tasked with providing a comparative benefit-cost analysis of coastal resilience strategies for participating cities in San Diego County, following the framework outlined in the National Oceanic and Atmospheric Administration's (NOAA) funded study, What Will Adaptation Cost? An Economic Framework for Coastal Community Infrastructure (NOAA, 2013). Specifically, we were directed to comparatively assess the trade-offs (spending vs. benefits) of various coastal resilience strategies, as identified by participating jurisdictions. Ultimately, the City of Carlsbad and the City of Del Mar were the two jurisdictions that participated in this study.
We evaluated the potential damage or loss to "at-risk" properties from sea level rise, and the cost of protecting, adapting, or abandoning those properties. The intent of this study is to compare the cost and benefits of sea level rise action scenarios, using benefit-cost ratios.
This report is part of a larger, multifaceted project led by the San Diego Regional Climate Collaborative, a partnership of local and regional agencies and groups. The project, "Connecting the Dots and Building Coastal Resilience in the San Diego Region," was funded through the NOAA Coastal Resilience Grants Program, a federally funded opportunity for coastal communities to prepare for changing sea levels and extreme storm events.
Keywords
climate, climate action, coast, coastal, resilience, San Diego, collaborative, regional, adaptation, mitigation
Disciplines
Environmental Sciences | Nonprofit Administration and Management
Rights
Prepared for The San Diego Regional Climate Collaborative U.S. Department of Commerce Grant #NA16NOS4730009 as part of the project titled: Connecting the Dots and Building Coastal Resilience in the San Diego Region" Prepared by: Nexus Planning & Research
Digital USD Citation
Nexus Planning & Research, "Comparing Sea Level Rise Adaptation Strategies in San Diego: An Application of the NOAA Economic Framework" (2017). San Diego Regional Climate Collaborative. 11.
https://digital.sandiego.edu/npi-sdclimate/11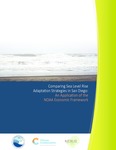 COinS