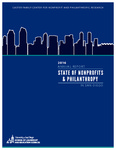 Abstract or Description
The 2016 State of Nonprofits and Philanthropy report analyzes the health of San Diego's nonprofit sector, identifies important trends, and reports on leadership perspectives.
In addition to an annual summary of the Caster Center's State of Nonprofits Quarterly Index (SONP Index) this report draws on the most recently available data about nonprofits from the Internal Revenue Service (IRS) and the California Employment Development Department (EDD). These data are synthesized with feedback from Trend Reporters1 along with the 2016 Nonprofit Leader Survey sent to executive level management in San Diego County to provide the most comprehensive picture of San Diego's nonprofit and philanthropic sector available (See Appendix A for more information about data sources).
Keywords
state of nonprofits, social impact, philanthropy, nonprofit, administration, management, state of nonprofits, giving, San Diego
Disciplines
Nonprofit Administration and Management
Rights
Copyright © 2016 All Rights Reserved Caster Family Center for Nonprofit and Philanthropic Research School of Leadership and Education Sciences University of San Diego
Digital USD Citation
Deitrick, Laura; Schumann, Mary Jo; Lam, Marcus; Schmitz, Hans Peter; Tinkler, Tessa; and Trull, Crystal, "State of Nonprofits Annual Report: 2016" (2016). State of Nonprofits in San Diego. 4.
https://digital.sandiego.edu/npi-stateofnp/4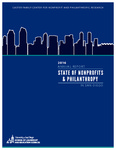 Included in
COinS