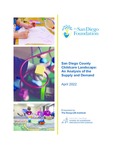 Abstract or Description
The COVID-19 pandemic has had significant impacts on the availability and demand for childcare. San Diego County, like much of the U.S., has historically had a much smaller supply of licensed childcare than there are children who need care. The pandemic has made this gap larger as the childcare supply has shrunk. Childcare providers have had to endure closures, new and constantly changing health guidelines, and uncertain revenue streams. On the demand San Diego County Childcare Landscape April 2022 ii side, parents' conditions and needs have also changed. Parents have become unemployed, worked remotely, and kept their children home to reduce transmission of the virus. This lack of stability in the childcare sector has come after years of low wages and low reimbursements for childcare providers, high costs for families, and an uneven patchwork of childcare options that vary greatly by neighborhood and family income.
Drawing on secondary data on the supply and demand for childcare, as well as 2022 survey data from 900 childcare providers in San Diego County, this report documents the most up-to date information available on the childcare landscape in San Diego County. The findings reveal a sector in crisis. At the same time that there is insufficient childcare to meet the demand, families are not utilizing the available licensed childcare to its full capacity because they are not finding the current system adequately meets their needs. Access to high-quality childcare is an essential component in ensuring families can maintain stable employment and children arrive at elementary school prepared. A substantial investment and rethinking of the system are needed to transform the way families access and utilize childcare.
Disciplines
Nonprofit Administration and Management
Digital USD Citation
Tinkler, Tessa and Jamshidi, Mehrnoush, "San Diego County Childcare Landscape: An Analysis of the Supply and Demand" (2022). Youth, Education, and Literacy. 5.
https://digital.sandiego.edu/npi-youth/5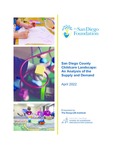 Included in
COinS