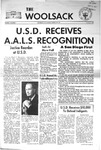 Description
Table of Contents:
U.S.D. Receives A.A.L.S. Recognition
Justice Reardon at U.S.D.
Belli at More Hall
U.S.D. Named As Federal Depository
U.S.D. Receives $10,000 to Defend Indigents
An Opinion: Employment opportunities. Try San Diego Last?
S.B.A. Reports by Bob Kuhnert
On Accretions and Accumulations by Jim Street
Sex and the Single Law Student by Fred Namath
The Falcon's Lair by Fred L. Link
Behind the Rostra: Joseph J. Darby: "It's a long way from Jersey City to Cologne."
Faculty Member Promoted
Law Review Near
L.S.C.R.R.C. Needs Students for the Summer
Keywords
University of San Diego School of Law Student Bar Association
Digital USD Citation
University of San Diego School of Law Student Bar Association, "Woolsack 1967 volume 4 number 3" (1967). Newspaper, The Woolsack (1963-1987). 12.
https://digital.sandiego.edu/woolsack/12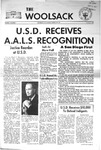 Included in
COinS