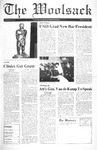 Description
Table of Contents:
USD Grad New Bar President
Clinics Get Grant by Ralph Botros
Attorney General Van de Kamp To Speak by Scott Dreher
From the Editor: Public Prayer Not the Answer by Scott Dreher. Editor-in-Chief
President's Report: Enthusiasm The Rule! by Sue Bridenbaugh
Paper Sets Policy: Woolsack Welcomes Anything
Sci-Fi In Law School
Alumni News: Life After Law School
Price Inconsistencies: Cal-Pirg Releases Local Drug Survey
Maudsley and Winters Awards Winners by Bruce Rorty
Dean's List by Dean SHeldon Krants
F.B.l. Careers: Career Planning Office Sets Meeting
Now Independent Contractors: Doctors Absent From Workers' Comp Suits by Julie R. Cardenas
Lawyering Skills Classes: USD Fills Legal Education Gap by Steve Cowen
Law School and S.D. -Do They Mix? by Charles Atkinson
Placement Office Notes
Carrillo Elected President of NAWL by Debbie Carrillo
Legal Tidbits
University Begins New Speakers Bureau
Many Benefits: Law Students Can Join ABA by Debbie Carrillo
Alksne Mixes Politics and Law School
New Professors Enhance Law School
New Law Review Members
Women In Law To Meet
First year professors
Library News: WALT's Here! New Computer Service by Jenny Kanji
A.C.L.U. and N.L.G. Form Student Chapters
The National Lawyers Guild - A Brief History
Campus Notes ...
University Offers Variety of Services by Jay Flagg
Thomas More Society Active
Woolsack Sports
Publication Date
9-13-1984
Keywords
University of San Diego School of Law Student Bar Association
Digital USD Citation
University of San Diego School of Law Student Bar Association, "Woolsack 1984 volume 25 number 1" (1984). Newspaper, The Woolsack (1963-1987). 155.
https://digital.sandiego.edu/woolsack/155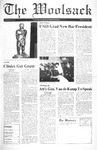 Included in
COinS