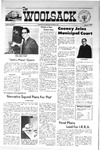 Description
Table of Contents:
Faculty to Hear Student Voice
Cooney Joins Municipal Court
"John's Place" Opens
No Gold in These Rainbows: Narcotics Squad Pans for 'Pot' by Bob Woods
Final Plans Laid for I.R.R.A.
Editorial
Letters to the Editor: Blind Finals
President's Message by Dennis K. Diemoz S.B.A. President
Standards of Dress Modified
Alumni News by Licenciado Jorge
Yale on Property
Police Officer Turned Law Student Looks at the Law by Bob McMillan
Alumnus Gets Combat Award
Judge Ruffin on Historicism
International law Society Works with Moot Court
S.B.A. Escapades
Social Scene by Lynn Schenk
Legal Fraternities: Bedfellows of the law by Manuel R. Martinez, Jr.
Career Day March First
Phi Delta Phi Throws Valentine Dance
Phi Alpha Delta Plans Active Spring Semester
Sports Reports by Martin Waterman the Tel Aviv Tweety
Poll Used for Films
Keywords
University of San Diego School of Law Student Bar Association
Digital USD Citation
University of San Diego School of Law Student Bar Association, "Woolsack 1969 volume 6 number 4" (1969). Newspaper, The Woolsack (1963-1987). 23.
https://digital.sandiego.edu/woolsack/23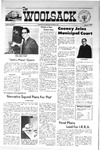 Included in
COinS