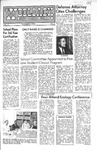 Description
Table of Contents:
Defense Attorney Cites Challenged
School Plans for 3rd Year Certification
Only Name is Changed
School Committee Appointed to Plan Law Student Clinical Program
In New York State: Four Attend Ecology Conference
Meeting Slated
The Tale of Two Committees (plus one)
President's Report by Bill Winship Student Bar Association President
October 1970 Calendar of Events
Challenges Cited by Don Rubin
Chicano Group Formed
News in Brief
Why?
What's it All About, CLEO? By Napoleon A. Jones Jr.
Mitchell As Radicalizer by Alex Landon
Up Your S.B.A. by Howie Shore
Why?: Toward Changing Life Styles by Alan Winterhalter
LSCRRC Speakers: Activists in Law
Phi Delta Phi
Phi Alpha Delta
Women Invited Into PAD by Dick Klauer
Keywords
University of San Diego School of Law Student Bar Association
Digital USD Citation
University of San Diego School of Law Student Bar Association, "Woolsack 1970 volume 8 number 2" (1970). Newspaper, The Woolsack (1963-1987). 33.
https://digital.sandiego.edu/woolsack/33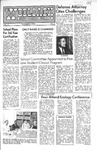 Included in
COinS