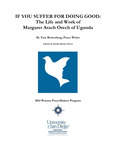 Abstract or Description
In the following pages, you will find narrative stories about a Woman PeaceMaker, along with additional information to provide a deep understanding of a contemporary conflict and one person's journey within it. These complementary components include a brief biography of the peacemaker, a historical summary of the conflict, a timeline integrating political developments in the country with personal history of the peacemaker, and a question-and-answer transcript of select interviews during her time at the Joan B. Kroc Institute for Peace and Justice.
Margaret Arach Orech is the founder and director of the Uganda Landmine Survivors Association (ULSA). A survivor of a landmine explosion and a subsequent attack by rebels of the Lord's Resistance Army (LRA), Orech is an ambassador for the Nobel Peace Prize- winning organization the International Campaign to Ban Landmines. In the late 1990s, while working for the Association of Volunteers in International Service, in Kitgum in northern Uganda, the bus she was riding in hit a landmine and was ambushed by the LRA. Her right leg was shattered from the blast; as the rebels scoured the bodies for survivors, she played dead until the army came nearly an hour later. Orech has worked since that time for the health and rights of fellow survivors of landmines and victims of the war in northern Uganda.
Orech's work with communities affected by the conflict in northern Uganda includes encouraging dialogue and interaction with other survivors of violence, including former rebels. In one case, she came face to face with a young man who was part of the group responsible for the attack that nearly killed her. Showing him compassion upon his expression of remorse, she helped organize a traditional cleansing ceremony to help him begin his slow journey to recovery.
With ULSA, Orech mobilizes survivors in a peer support structure in which they share and develop ideas that address survivors' needs and foster social and economic reintegration into their communities — many of which were displaced for years because of the violence in northern Uganda.
On the international level, Orech is a commissioner for the Interfaith Action for Peace in Africa, and continues to lobby nations to sign and ratify international agreements such as the Mine Ban Treaty, the Convention on Cluster Munitions, and the U.N. Convention on the Rights of Persons with Disabilities. She has met with heads of state and those in the midst of conflict to advocate on behalf of victims and survivors.
Of her experiences she writes, "My healing was a drawn [out] process, but I was able to overcome and now use the bitter experiences to encourage those who have faced similar situations that there is actually hope after all. ... Here I am, today, after that long and difficult road to recovery and the transformation from victim-survivor to peace advocate."
Keywords
peacebuilding, Women PeaceMakers, Uganda
Disciplines
Peace and Conflict Studies
Digital USD Citation
Ruttenberg, Tara, "IF YOU SUFFER FOR DOING GOOD: The Life and Work of Margaret Arach Orech of Uganda" (2014). Kroc IPJ Research and Resources. 12.
https://digital.sandiego.edu/ipj-research/12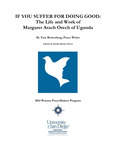 Included in
COinS