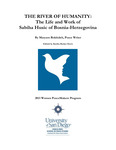 Abstract or Description
In the following pages, you will find narrative stories about a Woman PeaceMaker, along with additional information to provide a deep understanding of a contemporary conflict and one person's journey within it. These complementary components include a brief biography of the peacemaker, a historical summary of the conflict, a timeline integrating political developments in the country with personal history of the peacemaker, and a question-and-answer transcript of select interviews during her time at the Joan B. Kroc Institute for Peace and Justice.
Sabiha Husic, a psychotherapist, Islamic theologian and interreligious peacebuilder, is the director of the nongovernmental organization Medica Zenica in Bosnia-Herzegovina. Medica provides psychosocial and medical support to women and children victims of war and post-war violence, including rape and sexual violence, domestic violence, torture and human trafficking.
Husic first learned of the organization while displaced from her hometown of Vitez to the city of Zenica, where she and her family had walked over 13 nights in 1993 during the wars in the former Yugoslavia. Medica was working in the refugee camps, and Husic recalls that "the approach toward women which I saw there gave me the reason to live, and my willingness to help other people was even bigger." She became a volunteer, working directly with women survivors in areas where rape was used as a deliberate tactic in the war — oftentimes at great personal risk. Husic eventually became a staff member and then director of Medica in 2007. In 2010 she established the first institutionalized network of psychological support for victims and witnesses testifying in war crimes cases.
Before the conflict, Bosnians, Serbs and Croats were "very good neighbors, friends, and celebrated religious holidays together. The war divided them overnight." In this post-war climate, Husic urges reconciliation, bringing together women from all communities for workshops on stress and trauma, dialogue and conflict resolution. Along with two women from Switzerland, she leads the European Project for Interreligious Learning, which gathers Christian and Muslim women from five countries to promote understanding and tolerance. In Bosnia, this includes Serbian Orthodox Christians, Catholic Croats and Muslim Bosnians.
In 2009 Husic was recognized by Volonteurope with the Active Citizen of Europe Award for voluntary activism and professional work with Medica Zenica, and was a featured speaker at the 2013 World Justice Forum — recognition that affirms her life's motto: "I believe that small steps bring significant changes, no matter how small they seem to others."
Keywords
peacebuilding, Women PeaceMakers, Bosnia-Herzegovina
Disciplines
Peace and Conflict Studies
Digital USD Citation
Rokhideh, Maryam, "THE RIVER OF HUMANITY: The Life and Work of Sabiha Husic of Bosnia-Herzegovina" (2013). Kroc IPJ Research and Resources. 15.
https://digital.sandiego.edu/ipj-research/15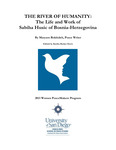 Included in
COinS