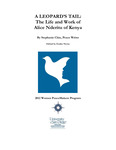 Abstract or Description
In the following pages, you will find narrative stories about a Woman PeaceMaker, along with additional information to provide a deep understanding of a contemporary conflict and one person's journey within it. These complementary components include a brief biography of the peacemaker, a historical summary of the conflict, a timeline integrating political developments in the country with personal history of the peacemaker, a question-and-answer transcript of select interviews, and a table of best practices in peacebuilding as demonstrated and reflected on by the peacemaker during her time at the Joan B. Kroc Institute for Peace & Justice.
A commissioner in Kenya's National Cohesion and Integration Commission (NCIC), Alice Nderitu stands at what she sees as a crossroads in her country between peacebuilding and human rights. "I am a child of these two worlds and the need to bring the two together is urgent," she says. With rich and varied experience in both worlds, Nderitu is an essential leader in preventing and transforming conflict in her native Kenya.
In the aftermath of Kenya's notorious 2007-8 post-election violence, Nderitu joined the newly created NCIC to mediate ethnic and race-related conflict and promote peaceful coexistence. As a mediator and a human rights and ethnic relations specialist for NCIC, Nderitu leads and builds mediation teams in Kenya's conflict hotspots. Often working within traditional structures, she brings elders from conflicting ethnic groups together to dialogue and defuse communal tensions. But she also challenges traditions, pushing for women to be included in the rigidly male-dominated elder institution. Similar to her work in Kenya's highest official levels, Nderitu is often the only woman at the peace table with the elders.
With NCIC, Nderitu has developed peace education curricula, pushed for the implementation of laws on hate speech and hate crime, and directed a nationwide television show discussing ethnic differences and conflict. She has also taken her conflict prevention lessons outside of Kenya to South Sudan in preparation for their referendum on independence.
Prior to her role as an NCIC commissioner, Nderitu worked as a prison officer, a teacher and a reporter before joining the Kenya National Commission on Human Rights in 2003 as its first staff member. There she created and headed the commission's human rights education department and pioneered the first human rights curriculum for public officers.
For several years, Nderitu has been training law enforcement and military officers on civil-military cooperation and the rule of law at the International Military Peace Support Training College and at the Rwanda Military Academy. She also directed the Education for Social Justice Program for Fahamu, a UK-based charity, facilitating human rights and conflict prevention training for civil society in Zimbabwe, Ethiopia and Uganda.
Keywords
peacebuilding, Women PeaceMakers, Kenya
Disciplines
Peace and Conflict Studies
Digital USD Citation
Chiu, Stephanie, "A LEOPARD'S TAIL: The Life and Work of Alice Nderitu of Kenya" (2012). Kroc IPJ Research and Resources. 18.
https://digital.sandiego.edu/ipj-research/18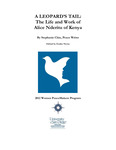 Included in
COinS