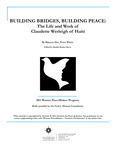 Abstract or Description
In the following pages, you will find narrative stories about a Woman PeaceMaker, along with additional information to provide a deep understanding of a contemporary conflict and one person's journey within it. These complementary components include a brief biography of the peacemaker, a historical summary of the conflict, a timeline integrating political developments in the country with personal history of the peacemaker, a question-and-answer transcript of select interviews, and a table of best practices in peacebuilding as demonstrated and reflected on by the peacemaker during her time at the Joan B. Kroc Institute for Peace & Justice.
From literacy education in rural Haiti to her post as Haiti's first female prime minister and on to secretary general of the Catholic peace movement Pax Christi International, Claudette Werleigh of Haiti has witnessed conflict and worked for peace in all corners of the world, with people from every strata of society. She is a peacemaker at every level.
The daughter of a prosperous business family, Werleigh was brought up on one side of Haiti's social fabric, but she soon saw the realities of the other side. The structural violence embedded in Haitian society had a profound effect on Werleigh, now known in her life's work as a staunch advocate for keeping policies and practices firmly rooted in the needs and voices of the grassroots.
As a young adult focused on justice for those caught in Haiti's disparate social structure, Werleigh was drawn to the field of education — specifically adult literacy — and started a school for adults and rural Haitian farmers. Community-owned and run throughout Haiti's tumult of political violence, earthquakes and epidemics, the school has been open and running for 33 years. Under the dictatorship of Jean-Claude Duvalier, Werleigh served as secretary general of Caritas Haiti for 10 years, coordinating relief assistance, civic education and respect for human rights.
Werleigh's entrée into a career in public administration and politics began in 1990 as part of a broad democratic consensus government. The 1991 coup d'état that overthrew the first democratically elected government convinced her of the need to work not only for justice, but also for peace. She served as executive director of the Washington Office on Haiti from 1992 to 1993 and minister of foreign and religious affairs in Haiti from 1993 to 1995, and then made history as Haiti's first female prime minister in 1995, during the Aristide administration. While always connected to her home country, Werleigh's path has also taken her outside of Haiti's borders into issues of international peace and conflict — as the director of conflict transformation programs at the Life and Peace Institute in Sweden until 2007, and then with Pax Christi where she was secretary general until the end of 2010 and now serves as a peace envoy.
Werleigh has worked with diverse communities in conflict and those transitioning out of war and violence around the world, deepening her understanding of the factors that trigger violent conflict. And the disparities she saw as a young girl in Haiti continue to transcend borders and inform her work. "The widening gap is not only between rich and poor nations but also between classes within a same single country," she says of the chasm she's spent her life working to bridge. Whether at home or in a new community, Werleigh is known for her commitment to keeping her ear tuned to the voices at the grassroots.
Keywords
peacebuilding, Women PeaceMakers, Haiti
Disciplines
Peace and Conflict Studies
Digital USD Citation
Das, Bijoyeta, "BUILDING BRIDGES, BUILDING PEACE: The Life and Work of Claudette Werleigh of Haiti" (2011). Kroc IPJ Research and Resources. 22.
https://digital.sandiego.edu/ipj-research/22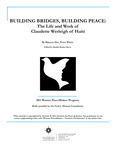 Included in
COinS