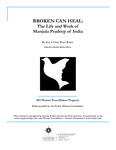 Abstract or Description
In the following pages, you will find narrative stories about a Woman PeaceMaker, along with additional information to provide a deep understanding of a contemporary conflict and one person's journey within it. These complementary components include a brief biography of the peacemaker, a historical summary of the conflict, a timeline integrating political developments in the country with personal history of the peacemaker, a question-and-answer transcript of select interviews, and a table of best practices in peacebuilding as demonstrated and reflected on by the peacemaker during her time at the Joan B. Kroc Institute for Peace & Justice.
A brazen human rights activist and lawyer, Manjula Pradeep has spent her life defending the rights of India's women and Dalits, the "untouchables" of the Hindu caste system. Pradeep, a Dalit herself, knows intimately the intersectionality of grief and abuse that Dalit women experience at the bottom of all of India's social hierarchies – caste, class and gender. But she has defied India's patriarchal and caste-structured society. As the executive director of Navsarjan Trust, a grassroots Dalit rights organization based in India's Gujarat state, Pradeep is a respected and prominent woman leader of the Dalit movement.
After completing her master's degree in social work, Pradeep became Navsarjan's first female employee. As she joined the organization's mission to eliminate caste and gender-based discrimination, Pradeep observed more of the realities of life for Dalit women and researched atrocities committed against Dalits. Witnessing an old Dalit woman struggling for justice for her son who had been brutally beaten and killed by police, Pradeep realized the need for human rights issues to be fought not just in the streets, but also in the courts.
In her 20 years with Navsarjan, Pradeep has pushed for the inclusion of women in Navsarjan's staff and leadership, as well as the entire Dalit rights movement. She has also trained hundreds of Dalit activists, provided legal aid and intervention for sexual violence and caste-based atrocities, and advocated for land reform and the eradication of manual scavenging (the illegal occupation of handling human excrement).
In 2008, Pradeep defended the case of a young Dalit girl who had endured long-term gang rape by six professors in her college. Navsarjan then took on more than 35 cases of sexual violence against minors and young women. Pradeep is also involved in the national and state level programs of the National Campaign on Dalit Human Rights. She is an executive committee member of the International Dalit Solidarity Network and works to raise the visibility of untouchability as an international human rights issue.
Pradeep has taken two of the most significant social injustices in India, devoting her life to championing the dignity and rights of her own community. Her voice is an amplifier for those whom society silences, or simply ignores.
Keywords
peacebuilding, Women PeaceMakers, India
Disciplines
Peace and Conflict Studies
Digital USD Citation
Choi, Amy S., "BROKEN CAN HEAL: The Life and Work of Manjula Pradeep of India" (2011). Kroc IPJ Research and Resources. 23.
https://digital.sandiego.edu/ipj-research/23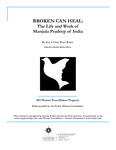 Included in
COinS