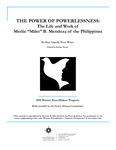 Abstract or Description
In the following pages, you will find narrative stories about a Woman PeaceMaker, along with additional information to provide a deep understanding of a contemporary conflict and one person's journey within it. These complementary components include a brief biography of the peacemaker, a historical summary of the conflict, a timeline integrating political developments in the country with personal history of the peacemaker, a question-and-answer transcript of select interviews, and a table of best practices in peacebuilding as demonstrated and reflected on by the peacemaker during her time at the Joan B. Kroc Institute for Peace & Justice.
Peace practitioner and humanitarian Merlie "Milet" B. Mendoza of the Philippines has over two decades of peacebuilding experience ranging from the Office of the President in Manila to the conflicted frontlines of Mindanao. Currently Mendoza teaches social work and disaster management and provides technical support on disaster response and risk reduction to church-based social action organizations within the Catholic Caritas network in the Philippines.
Beginning in 1989 with the Corazon Aquino administration, Mendoza served for a decade in various presidential departments, including the Peace Commission and the National Unification Commission. She then assisted the Government Peace Negotiating Panel for Talks with the Communist Party of the Philippines/New People's Army/National Democratic Front, organizing peace consultations to understand the issues facing those in conflict areas. She transitioned from the government to the grassroots in 1999, becoming executive coordinator of Tabang Mindanaw ("Help Mindanao"), a national coalition for peace policy advocacy, humanitarian assistance and human security in Mindanao. While also coordinating the Assisi Development Foundation's Free the Indigenous Peoples Program, a legal assistance organization affiliated with the Ateneo Human Rights Center, Mendoza facilitated the release of 12 indigenous people unjustly imprisoned for life.
Mendoza coordinated emergency humanitarian assistance through Tabang Mindanaw in the aftermath of widespread drought caused by the 1998 El Niño and from 2000 to 2003 for the 1 million civilians displaced by the war between government forces and the Moro Islamic Liberation Front. Her commitment to those affected and displaced by any disaster has been a common thread in her work. She is a founding member of the Asian Disaster Response and Reduction Network – an alliance of more than 30 national and local humanitarian and social development NGOs in 16 countries throughout the Asia-Pacific region, where more than half of the world's disasters have occurred over the past 50 years.
In September 2008, soon after Mendoza began serving marginalized Muslim communities in the Sulu archipelago as an independent volunteer, she was abducted by the militant separatist group Abu Sayyaf and held hostage for two months. Since her release, Mendoza continues to help communities recognize their rights, access justice and create peace in the Philippines. "Peacemaking and conflict management go beyond the rational. They touch on the sacred and the divine," Mendoza believes. "It is a combination of art and a science. It is about goodness."
Keywords
peacebuilding, Women PeaceMakers, Philippines
Disciplines
Peace and Conflict Studies
Digital USD Citation
Liepold, Mary, "THE POWER OF POWERLESSNESS: The Life and Work of Merlie "Milet" B. Mendoza of the Philippines" (2010). Kroc IPJ Research and Resources. 26.
https://digital.sandiego.edu/ipj-research/26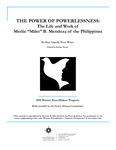 Included in
COinS