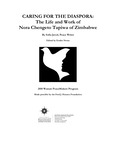 Abstract or Description
In the following pages, you will find narrative stories about a Woman PeaceMaker, along with additional information to provide a deep understanding of a contemporary conflict and one person's journey within it. These complementary components include a brief biography of the peacemaker, a historical summary of the conflict, a timeline integrating political developments in the country with personal history of the peacemaker, a question-and-answer transcript of select interviews, and a table of best practices in peacebuilding as demonstrated and reflected on by the peacemaker during her time at the Joan B. Kroc Institute for Peace & Justice.
A dedicated activist, Nora Chengeto Tapiwa works to protect and procure the peace and human rights of her fellow Zimbabweans – in both Zimbabwe and South Africa. Currently in exile herself, Tapiwa is a widely known leader of Zimbabwean activists in South Africa. As founder and current secretary of the Zimbabwe Diaspora Development Chamber, she strives to create cohesion and unity among the Zimbabwean diaspora and within South Africa's migrant communities at large.
Growing up in rural Zimbabwe during the liberation war, Tapiwa's activism began before she was forced to flee her home country. A trade unionist and banker by profession, Tapiwa was a community leader, educating people on their civil rights and the constitution. Because of her activism and position as organizing secretary for the Zimbabwe Congress of Trade Unions, she was a target of President Robert Mugabe's clampdown on political opposition. When personal threats and surveillance mounted in 2003, Tapiwa left Zimbabwe to seek refuge in neighboring South Africa. Two years later, her house was destroyed as part of Operation Murambatsvina, a demolition program that resulted in an estimated 700,000 homeless Zimbabweans.
Still in South Africa, Tapiwa began working in the refugee community and organized a group of more than 2,000 refugees and activists to form the Global Zimbabwe Forum, which is now composed of 40 Zimbabwean organizations in exile. Zimbabweans were suffering in South Africa as well, and Tapiwa participated in a delegation to push the South African government to acknowledge the plight of Zimbabwean migrants and recognize them as refugees. Their negotiations succeeded in a waiver of visa requirements for Zimbabweans seeking asylum in South Africa.
During the xenophobically charged riots against foreign migrants in 2008, Tapiwa worked at the Johannesburg Mayor's Migrant Desk providing shelter and food to victims of the attacks and coordinating the South African Red Cross Society's humanitarian aid distribution to migrants living in shelters. Tapiwa continues to pressure the South African Development Community to protect Zimbabwean civilians and is actively involved in efforts to help repatriate those who want to return home.
Tapiwa is writing a book on women in leadership and is also the founding CEO of Tapiwa Institute of Leadership. "I want to encourage women to have confidence in themselves and believe they are no different from their male counterparts," Tapiwa says of her hope for women. "Women, as mothers, are more passionate in making peace. They can keep nations together the way they keep their families together."
Keywords
peacebuilding, Women PeaceMakers, Zimbabwe
Disciplines
Peace and Conflict Studies
Digital USD Citation
Javed, Sofia, "CARING FOR THE DIASPORA: The Life and Work of Nora Chengeto Tapiwa of Zimbabwe" (2010). Kroc IPJ Research and Resources. 27.
https://digital.sandiego.edu/ipj-research/27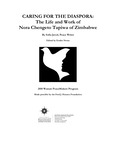 Included in
COinS