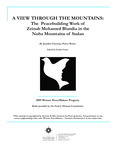 Abstract or Description
In the following pages, you will find narrative stories about a Woman PeaceMaker, along with additional information to provide a deep understanding of a contemporary conflict and one person's journey within it. These complementary components include a brief biography of the peacemaker, a historical summary of the conflict, a timeline integrating political developments in the country with personal history of the peacemaker, a question-and-answer transcript of select interviews, and a table of best practices in peacebuilding as demonstrated and reflected on by the peacemaker during her time at the Joan B. Kroc Institute for Peace & Justice.
Zeinab Mohamed Blandia, a Muslim peacemaker from Sudan, has been described as a "point person" for creating community and maintaining peace in the Nuba Mountains, one of the most conflict-affected and neglected regions of the world. She is the founder and director of Ruya, or "Vision," an organization based both in Kadugli in the middle west region and Omdurman in the north, where she trains and cultivates fellow "women peace ambassadors."
Uprooted from her home in the 1980s because of the war between the government and the Sudan People's Liberation Army/Movement (SPLA/M), Blandia lived among other displaced people in Omdurman, across the Nile River from Khartoum. There, the displaced from opposing sides of the conflict often became "next-door neighbors," which prompted Blandia to establish the Tabag Alsalam, or "Tray of Peace," where women from different regions and diverse cultures prepared traditional meals and invited other groups to eat and "debate peacefully" the issues that were being fought over in the distant battlefield. The initial small group of women grew to include 45 groups from across Sudan.
Blandia has since taken her skills in community conflict resolution and dialogue back to the Nuba Mountains and expanded the work of Ruya. Ruya's Women's Solidarity Fund Groups develop the economic skills of women through traditional group activities and contemporary modes such as savings accounts. The solidarity groups include Trust Committees which identify conflict issues and engage in peacebuilding at the community level. Blandia also initiated the program "Women Bridging," which involves exchange visits between communities in government-controlled and SPLA/M- controlled areas in Southern Kordofan State. The latest Ruya project involves training illiterate women in solar engineering and transferring that technology to other regions of Sudan that are outside the reach of government electricity services. With other women and men in the rugged terrain of the Nuba Mountains, Blandia is leading the renewal of civil society and indigenous conflict resolution methods, as well as the quest for reconciliation.
Keywords
peacebuilding, Women PeaceMakers, Sudan, Nuba Mountains
Disciplines
Peace and Conflict Studies
Digital USD Citation
Freeman, Jennifer, "A VIEW THROUGH THE MOUNTAINS: The Peacebuilding Work of Zeinab Mohamed Blandia in the Nuba Mountains of Sudan" (2009). Kroc IPJ Research and Resources. 32.
https://digital.sandiego.edu/ipj-research/32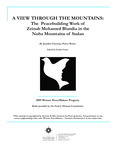 Included in
COinS