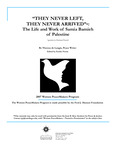 Abstract or Description
Women PeaceMakers are paired with a Peace Writer to document in written form their story of living in conflict and building peace in their communities and nations. While in residence at the institute, Women PeaceMakers give presentations on their work and the situation in their home countries to the university and San Diego communities.
Samia Bamieh is a founding member and respected leader of the International Women's Commission for a Just and Sustainable Palestinian-Israeli Peace (IWC) and chairperson of its Palestinian Steering Committee. Bamieh, one of the experts who helped formulate the Palestinian government's Plan of Action on gender after the United Nations Fourth World Conference on Women in Beijing, China, was the director of gender policies and training in the Palestinian Directorate of Gender and Development of the Ministry of Planning and International Cooperation. She then served in the same ministry as director of U.N. and International Organizations and director general of European Affairs, and was a member of the committee assigned to draft a Palestinian constitution under Minister Nabeel Shaath.
Bamieh, a mother of two, has been involved for over 30 years in promoting women's rights and roles in politics and decision making. Her civil society activism includes being a member of Jerusalem Link, the coordinating body of two independent women's organizations (the Jerusalem Center for Women on the Palestinian side and the Jerusalem Women's Action Center on the Israeli side) that promote a shared set of political principles for coexistence and the resolution of the conflict. Bamieh continues to be engaged in efforts to build a civil, political society for a future Palestinian state on two interdependent fronts: the establishment of an independent democratic state with a constitution that acknowledges pluralism and non-discrimination, and the expansion and defense of achievements of Palestinian women in their political and legal struggles. In spite of having suffered from war, occupation and disappointing peace efforts, Bamieh has chosen to take paths that allow her to support and inform new ways of thinking about the conflict and how peace and communities might be restored.
Keywords
peacebuilding, Women PeaceMakers, Palestine
Disciplines
Peace and Conflict Studies
Digital USD Citation
de Langis, Theresa, ""THEY NEVER LEFT, THEY NEVER ARRIVED": The Life and Work of Samia Bamieh of Palestine" (2007). Kroc IPJ Research and Resources. 40.
https://digital.sandiego.edu/ipj-research/40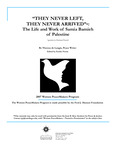 Included in
COinS