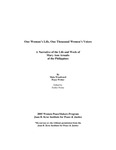 Abstract or Description
Women on the frontline of efforts to end violence and secure a just peace seldom record their experiences, activities and insights – as generally there is no time, or, perhaps, no formal education that would help them record their stories. The Women PeaceMakers Program is a selective program for leaders who want to document, share and build upon their unique peacemaking stories. Selected peacemakers join the IPJ for an eight-week residency. Women PeaceMakers are paired with a Peace Writer to document in written form their story of living in conflict and building peace in their communities and nations. While in residence at the institute, Women PeaceMakers give presentations on their work and the situation in their home countries to the university and San Diego communities.
As a lawyer and for several years the deputy director of Initiatives for International Dialogue (IID), a regional institution that promotes solidarity among the peoples of Southeast Asia, Mary Ann Arnado coordinated the grassroots peacebuilding and peace advocacy program in Mindanao, with the goal of promoting the participation of women in the peace process between the government of the Republic of the Philippines and the Moro Islamic Liberation Front (MILF). In that capacity, Arnado organized the successful Bantay Ceasefire monitoring team, worked directly in zones of conflict to educate warring factions on international humanitarian law and human rights and was appointed by the government peace panel to serve as an official advisor on ancestral domain.

Arnado is also the secretary-general of the Mindanao Peoples Caucus (MPC), a grassroots network of the Bangsamoro, indigenous peoples and Christian settlers, which seeks to promote indigenous peacemaking mechanisms and facilitate dialogue. During the Buliok War of 2003, Arnado helped mobilize over 10,000 IDPs who were demanding an immediate ceasefire between the Armed Forces of the Philippines (AFP) and the MILF, a demand heeded by both sides. She recently participated in the International Women's Peace and Solidarity Mission to Basilan to investigate the recurrence of violence and the situation of the displaced in the region.
Arnado was instrumental in the success of the Basilan incident fact-finding mission, formed in response to the beheading of 14 members of the AFP, and comprised of representatives from the AFP, MILF and Bantay Ceasefire. Her insistence that the investigators visit the actual site of the incident resulted in the correct identification of the offending party. Arnado's participation in this mission further articulated the need to openly address issues of sexual violence as a result of conflict. With cultural norms dictating otherwise, Arnado is examining avenues to bring this issue to light in order for true root causes and ramifications of conflict to be incorporated into peace processes.
In 2009 Arnado was awarded the Benigno S. Aquino Jr. Fellowship for Professional Development in Public Service by the U.S. Embassy in Manila, given to Filipinos who have shown courage and commitment to truth in journalism and public service.
Keywords
peacebuilding, Women PeaceMakers, Philippines
Disciplines
Peace and Conflict Studies
Digital USD Citation
Woodward, Maia, "One Woman's Life, One Thousand Women's Voices A Narrative of the Life and Work of Mary Ann Arnado of the Philippines" (2005). Kroc IPJ Research and Resources. 42.
https://digital.sandiego.edu/ipj-research/42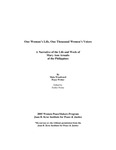 Included in
COinS