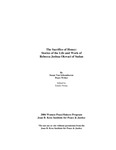 Abstract or Description
Rebecca Joshua Okwaci is a journalist by profession and the secretary general of Women Action for Development (WAD) in South Sudan. As a peace advocate, Okwaci co-led the Sudanese delegation to the U.N. Fourth World Conference on Women held in Beijing, China in 1995 and facilitated dialogue between women from the south and north. Her progressive work to bring the groups together was recognized by international institutions and governments and culminated in the founding of Sudanese Women's Empowerment for Peace (SuWEP), an organization included in the list of 1,000 women nominated for the Nobel Peace Prize. She is also a founding member of the Sudanese Women's Association in Nairobi and Sudanese Women's Voice for Peace (SWVP), the first grassroots peace organization established by Sudanese women living in exile in Kenya, and she co-led the Sudanese women's delegation to The Hague Appeal for Peace in 1999. With SWVP, Okwaci carried out the first peacebuilding and conflict resolution programs and trainings in the Shilluk Kingdom in Mid-West Upper Nile in what is now South Sudan.
In her role as secretary general for WAD, Okwaci strives to educate women and communities in skills necessary to advance the agenda of peace in Sudan and South Sudan. She has conducted several trainings and is assisting in the creation of a WAD office in Juba, the capital of the south. Okwaci recently contributed to the Collo (Shilluk) Conference on Peace and Development with a presentation of her views on women's roles in peace and development. With successful strides in engendering the government of South Sudan at all levels, Okwaci is still working toward the realization of 25 percent women's effective representation within South Sudan.

As an executive producer at Sudan Radio Service, Okwaci produces programs targeting women, such as "Our Voices" and "Women's Corner," and contributes to programs educating citizens on elements of the Comprehensive Peace Agreement (CPA) signed in 2005. As the only female member of the Association for Media Development in Southern Sudan, Okwaci has been instrumental in the drafting of three media bills focused on issues of public service broadcasts, access to information and regulation of broadcasts. Additionally, she is contributing to the formation of a code of media ethics and a code of conduct for Sudanese journalists. She is a member of a media council task force designed to guide and support journalists in the proper usage of the code of ethics.
Keywords
peacebuilding, Women PeaceMakers, South Sudan
Disciplines
Peace and Conflict Studies
Digital USD Citation
Van Schoonhoven, Susan, "The Sacrifice of Honey: Stories of the Life and Work of Rebecca Joshua Okwaci of Sudan" (2006). Kroc IPJ Research and Resources. 46.
https://digital.sandiego.edu/ipj-research/46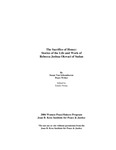 Included in
COinS