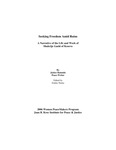 Abstract or Description
Shukrije Gashi lives and works in Prishtina, Kosovo, where she is the director of Partners Center for Conflict Management-Kosova, working within local communities to resolve disputes and build consensus on issues affecting civil society. A lawyer, poet and mediator, Gashi has worked throughout her life on issues of human rights and conflict resolution. As a student in the early 1980s, she was imprisoned for two years for her involvement in the struggle for the recognition of Kosovo Albanian rights in the former Yugoslavia. Following her imprisonment, Gashi worked as a journalist for many years, writing for newspapers such as the New York Times and the Albanian daily newspaper Rilindja. In the 1990s, she helped establish several regional NGOs, including the Council for the Defense of Human Rights and Freedoms, the Centre for the Protection of Women and Children and Motrat Qiriazi. She was one of the main actors involved in drafting the first mediation law, gender equality draft law, and property and housing legislation in Kosovo. Also throughout the decade, Gashi was involved in the Council of Reconciliation, which brought together Albanians from Kosovo and the diaspora to resolve sometimes decades-old blood feuds (or interfamily revenge killings); she and other mediators in the council adapted traditional conflict resolution practices to modern Albanian culture.
While working on the development of successful relations between civil society and government, Gashi has been working to raise awareness among women of the importance and advantages of seeking roles in decision-making processes, particularly at the local level. Gashi, recognizing that the healing of divided communities is vital at this stage of Kosovo's development, has also been focusing on the return of Serb minorities to the largely Albanian Kosovo. Working jointly with programs in Serbia, her efforts aim to reintegrate minorities both physically and mentally and to ensure sustainability of the process.
Keywords
peacebuilding, Women PeaceMakers, Kosovo
Disciplines
Peace and Conflict Studies
Digital USD Citation
Batanda, Jackee, "Seeking Freedom Amid Ruins: A Narrative of the Life and Work of Shukrije Gashi of Kosovo" (2006). Kroc IPJ Research and Resources. 47.
https://digital.sandiego.edu/ipj-research/47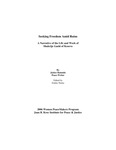 Included in
COinS