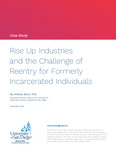 Abstract or Description
Rise Up Industries provides reentry services and support to formerly incarcerated individuals who were previously in gangs through an intensive job training program, offered alongside a holistic set of support services. Kroc Institute for Peace and Justice Executive Director, Andrew Blum, provides a deeper understanding of this approach and the results it has produced to date, while situating it in the context of other initiatives focused on reentry and reducing recidivism.
This case study concludes that RUI's reentry program is a promising approach and likely makes a small-scale contribution to solving a very hard problem – successfully fostering the reentry of formerly gang-involved, incarcerated individuals into society.
Keywords
recidivism, reentry, gang prevention, incarceration
Disciplines
Peace and Conflict Studies | Social Justice
Digital USD Citation
Blum, Andrew, "Rise Up Industries and the Challenge of Reentry for Formerly Incarcerated Individuals" (2022). Kroc IPJ Research and Resources. 5.
https://digital.sandiego.edu/ipj-research/5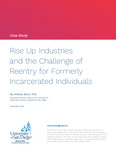 Included in
COinS