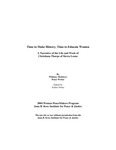 Abstract or Description
Women on the frontline of efforts to end violence and secure a just peace seldom record their experiences, activities and insights – as generally there is no time or, perhaps, they do not have formal education that would help them record their stories. The Women PeaceMakers Program is a selective program for leaders who want to document, share and build upon their unique peacemaking stories. Selected peacemakers join the IPJ for an eight-week residency.
Women PeaceMakers are paired with a Peace Writer to document in written form their story of living in conflict and building peace in their communities and nations. The peacemakers' stories are also documented on film by the IPJ's partner organization Sun & Moon Vision Productions. While in residence at the institute, Women PeaceMakers give presentations on their work and the situation in their home countries to the university and San Diego communities.
Christiana Thorpe is the chief electoral commissioner for the National Electoral Commission of Sierra Leone. She is the founding chair and former chief executive officer of the Sierra Leone branch of the Forum for African Women Educationalists (FAWE-SL). A former nun, Thorpe left convent life to devote herself to the protection and education of girls. She was appointed deputy minister of education in late 1993 – the only woman in a cabinet of 19 members. After establishing FAWE-SL in 1995, the group created Emergency Camp Schools in the capital, Freetown, for children displaced by the civil war. Unrest in the country forced her into exile in Guinea, where FAWE-SL developed non-formal education programs for children. The organization later counseled and rehabilitated women and girls who had been raped by the fighting forces, particularly those victimized during the rebel attack on Freetown in 1999.
Through her duties as chief electoral commissioner, Thorpe restructured electoral processes within Sierra Leone for the nation's second post-conflict presidential and parliamentary elections. Thorpe was responsible for registering political parties and citizen voters and organizing and monitoring the voting process. In addition, she ensured the involvement of all stakeholders including civil society and security forces in the election planning process. She conducted a series of civic education trainings with women's and youth groups to educate them on election processes. With the successful training of over 8,000 youth, Thorpe employed them to monitor the elections. In a final effort to minimize election-inspired violence, she conducted trainings of peaceful conflict resolution with village chiefs. Thorpe is also a member of the National Security Council, which elevated her capacity to institute free and fair elections within the country.

Thorpe is the recipient of the 2009 German Africa Award, recognized for her role in the peaceful elections in Sierra Leone by the German Africa Foundation. The foundation honors individuals for their commitment to peace, democracy, human rights and a social market economy. Thorpe also received the 2006 Voices of Courage Award from the Women's Commission for Refugee Women and Children and the Special Token of Appreciation for Remarkable Services Award of Sierra Leone for her service to humanity.
Keywords
peacebuilding, Women PeaceMakers, Sierra Leone
Disciplines
Peace and Conflict Studies
Digital USD Citation
McIntyre, Whitney, "Time to Make History, Time to Educate Women: A Narrative of the Life and Work of Christiana Thorpe of Sierra Leone" (2004). Kroc IPJ Research and Resources. 50.
https://digital.sandiego.edu/ipj-research/50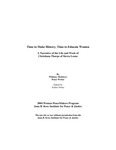 Included in
COinS